06/30/2002 Entry: "All The Colors, Darkly."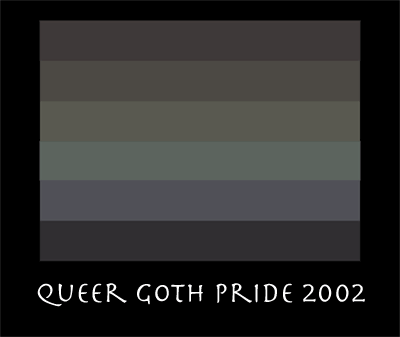 Happy Pride Day to my friends celebrating in San Francisco, Chicago, Toronto and New York, and to my queer friends wherever you are.
Replies: 3 comments
I love the flag. :) Someone at the Chicago parade today was wondering where all the goths were...
Thank you, Casey, and happy pride to you.
Posted by Jason @ 06/30/2002 07:33 PM PST
that flag is fantastic!
so many uses. so many meanings.
goth pride. nouveau pride. anti-pride. minimalist pride. post-pride pride. chic pride.
why oh why didn't they let me into b-school. i would have known what to do with a brilliant gem like this.
you would have been rich as Midas.
Midas, I say.
Posted by aaron @ 06/30/2002 10:15 PM PST
ditto! great flag. Oh Happy Day, and all that, man!
Posted by bj @ 07/01/2002 02:08 PM PST