10/31/2003 Entry: "I've Been A Bad Fae; Please Don't Take My Picture."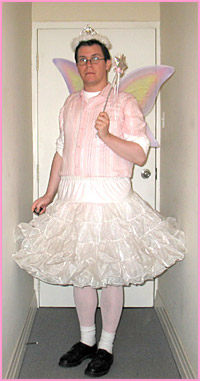 Okay, so not only did I get pictures of me, so did a Chronicle photographer on the subway. Eek: I hope he photoshops out the pimples that appeared yesterday on my upper lip, or else there's going to be something very scary on their Halloween photos page. "Going to the Castro?" he asked. No, just getting home from work. "You must have a great job," another rider offered.

OK, perhaps it is a little strange that amidst all the people rushing home in street clothes to put on their costumes, I was the one going home to change out of costume into my street clothes. It's a reverse commute.

Two more shots from today:
• Faerie face (Thank goddess for Photoshop.)
• It's the Graphics Faerie!

I do regret not having a camera when the guy who works at the coffee house, dressed today as a flasher, opened his trenchcoat and flashed me; "Happy Halloween" was written in black just above his black bikini briefs. Now that would have been a worthy photo op.
Replies: 8 comments
I *love* it! And the shoes go *so* well! :-)
Posted by Lee @ 10/31/2003 11:57 PM PST
I am pissing myself... That is soooo great
HURRAY FOR YOU
Posted by Sillynun @ 11/01/2003 01:14 AM PST
I wanted to be the one to post on the shoes! Harumph.
Posted by Colin @ 11/01/2003 05:45 AM PST
That is so fucking hot. You've been elevated to Hero status, along with Jason and his checkerboard Vans.
Posted by Sam @ 11/01/2003 10:58 AM PST
O.M.G. I am *so* hooking you up with an elf.
Posted by -J. @ 11/01/2003 03:02 PM PST
So, uh, you got a brother? ;)
Posted by Jason @ 11/01/2003 06:40 PM PST
Squee! You look so cute!
Posted by Katrina @ 11/02/2003 11:12 AM PST
this is the last THE LAST costume i'd imagine seeing you in. un-bee-lievable. work your fairy magik already.
Posted by aaron @ 11/04/2003 10:20 AM PST